A sign in the window at shuttered Cube 63 on 234 Court Street announces that another eatery, Brucie, is coming soon. No further details yet.
Strong Place gastropub has just opened (July 26) in the old Shakespeare's Sister location at 270 Court Street. The team at Cobble Hill's Bocca Lupo is behind the new spot, which boasts a seafood-meat rich menu and some 24 beers on tap. Word is a garden area is planned as well, possibly through September.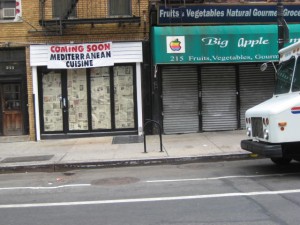 On Smith Street, there is a new Mediterranean-style restaurant in the works, adjacent the Big Apple deli that has just shutdown after a speedy "buy one, get one free" clearance sale.
This is especially annoying since it's where my husband has long picked up icecream for me on his way home from work late at night, and it was really the only well-stocked deli on the stretch between the subway station on Warren Street  and Degraw Street that opened late.
Across the way at 208 Smith there is another casualty. Rocketship – the geeky comic/anime store is finally gone for good after a string of lengthy, unexplained closures signaled something was wrong in the land of graphic novels. It's a shame – my 7 year-old-son loved stopping in there on weekends to choose some quirky book with great drawings and impossibly small print.