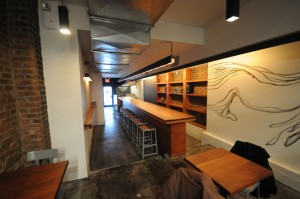 Der Kommissar, the newest kid on its South Slope block, swings open its doors tonight, promising to blend traditional Austrian eats with Brooklyn smarts. Artisanal Austrian-style sausages, craft beers and schnapps define the bar-restaurant-hangout on 5th Avenue, at 15th Street, which is loosely modeled on the outdoor sausage stands common in Vienna.
Three Park Slope locals – Gary Baldwin, his Austrian wife Monika Wuhrer, and neighborhood mixologist Alex Darsey – wanted to create a place where locals could kickback with drinks, chat or watch a game, while noshing on simple, high-quality, artisanal snacks. Der Kommissar "brings a little bit of Vienna to 5th Ave," touts the website.
Just like a Viennese Würstelstand, sausages feature high on Der Kommissar's menu – from frankfurters and bratwurst to lesser known käsekrainer and weisswurst. There are also pretzels, potato salad, sauerkraut and the classic Austrian Liptauer, a spread made from quark, paprika, caraway, herbs, pickles, and anchovy. And for something sweet, the beloved Manner Schnitten – traditional Austrian wafers layered with hazelnut cream.
Food will be available at the bar, as well as through a window that opens onto the street, a leftover from its previous life as a Spanish take-out spot. The whole idea is to keep it simple and relaxed; a place you can stop-by with the kids for an afternoon snack, or hang with your mates late into the night.
Baldwin and Wuhrer are known around the hood as the owners of the nearby Open Source Gallery, which has been a nomadic art force since a five-alarm fire damaged it and the couple's apartment in November. Since it began in 2008, the gallery has become an institution, offering everything from a soup kitchen through the holidays to summer camp for local kids. Business partner Darsey is a photographer and well-known bar tender.
Der Kommissar, which is hosting a "soft opening" tonight from 7pm to 10pm, is at 559 5th Avenue, phone 718. 788. 0789.