Fee Plumley calls herself a geek artist, techno-evangelist and digital consultant. She hails from the United Kingdom and has become a permanent, if nomadic, resident of Australia.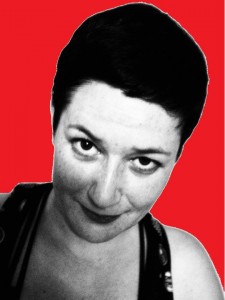 Combine Fee's geekery with her will to travel and you have reallybigroadtrip – her proposal to create and live in a truly mobile digital culture.
Fee's plan is to get a bus, rig it with recording equipment and drive it around Australia, talking to people about how they engage with creative technology. It's an artwork, a research project, plus a home, studio and workshop.
Among other things, this soon-to-be 39-year-old with cropped, dyed red hair and wearing a big, blingy 'Geek' nameplate around her neck (a gift from her sister), has co-founded a company that created a new genre of literature inspired by mobile phone technical limitations and started the Geek in Residence model that was adopted in Australia and abroad.
"It's the stuff that breaks convention that I really love," says Fee, speaking about theatre, where her career started years ago. But you get the idea that this is her metaphor for life too.
Anything is Pozible
Like many creatives with an idea but scant funding, Fee is tapping the crowd-sourcing site Pozible to raise money for her reallybigroadtrip. Her Pozible campaign is scheduled to end 12 July and she is anxious that it is lagging her target amounts.
"It's the most exciting time in my life. It's also the most terrifying," says Fee. "I have never made myself so vulnerable and never felt so strong."
Once she has 'the bus' – which incidentally will be styled-decorated-rigged out by none other than lighting, set, venue designer Geoff Cobham, also the man behind Barrio, – the plan is to hit the road and just keep driving; talking to people, documenting data, writing, and making stuff along the way.
All the traveling and talking will result in a huge amount of rich media, the best of which will be shared instantly via social networks. Follow @feesable on Twitter and you will notice two things pretty quickly: she tweets a lot and sleeps very little.
The rest of the information gathered on her journey will be stored for future development; a vast legacy of material for advocacy, data visualisation, conferences and festivals. There may also be a book or documentary in it too, or as Fee corrects – an e-book or interactive documentary.
Fee said the idea of buying a bus came up a few years back when she knew she wanted to apply for permanent residency in Australia and had to create an opportunity to make it happen.
"I adore travel, buses, creative play and geeks," so the digital-mobile-bus combination seemed to fit together.
"I could have just traveled around from place to place on foot or by plane but the idea of a road trip seemed right. The bus is a symbol of the kind of digital community-based cloud that we exist in now."
The bus will be Fee's exhibition space, workshop, conference room, screening space, studio and her home, running on vegetable oil and the kindness of others. After couch-surfing for the past eight months in various Australian states, she says she looks forward to having a home, albeit mobile and on a bus.
The bigger picture – and there is always a 'bigger picture' when Fee's mind starts ticking over – is to get a bus in every continent.
"The idea is to have all these spaces that become resources for other digital practitioners.
"I really want to dispel this myth that media arts are a niche or emerging. I've been doing it for years already and I wasn't even there at the beginning."
Fee recalls the day she met the Internet. She was moving into a share house in Brighton in the UKin 1996 and there was a free, online computer.
"I didn't really know what I could do with the Internet but I knew I wanted to use it somehow.
"I went to the dole office and asked where I could learn about what the Internet was and what it meant for creative practice." Of course, her enthusiasm met blank stares.
Wind forward some years and Fee eventually moved to Australia on a distinguished talent visa and got a job at the Australia Council, working in funding digital strategies. There she created the Geek in Residence program, which placed creative technicians with creative firms.
Just weeks shy of her Australia Council contract ending, Fee got the permanent residency status sought in Australia. Now for the bus, and her circle is almost complete.
To get this show on the road she needs funding – sponsorship, in-kind partnerships – whatever it takes to buy a bus, deck it out and keep it running from place to place. Plus, she'll need money to cover internet access, living expenses, promotion and equipment.
"My life is this kind of ridiculous adventure," says Fee.
Needless to say she's not resting on her laurels waiting for money to roll in and a bus to materialise. She recently returned from Melbourne's Emerging Writers Festival and already has conferences, speaking engagements and the like scheduled for coming months.
Among then, Fee is on the roster to give a keynote speech at the Regional Arts Australia Conference in Goolwa in October, touching on art and the economy and broadband – all sorts of things that she predicts will get her into trouble.
Find Fee's Pozible crowd-sourcing campaign at reallybigroadtrip.pozible.com.