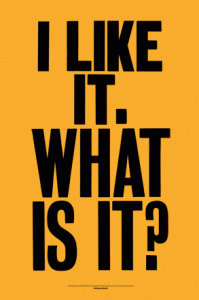 I love graphic arts; probably something to do with my job at a graphic design magazine and writer's thirst for the brief, catchy one-liner. Well, I discovered this Anthony Burrill print hanging on a friend's wall at the weekend and wanted to take it home.
"I Like It. What Is It?" was exactly what I asked my host, several times, in fact, until he introduced me to Burrill, a UK-based designer whose work spans witty posters, to film and Internet projects. Trained at the Royal College of Art in London, Burrill has designed ad campaigns for London Underground, DIESEL and Nike, among others; and covers for The Economist and Wallpaper. He's also produced interactive web-based work for bands such as Kraftwerk and Air, murals for Bloomberg and Priestman Goode, and designed the identity for KesselsKramer's London base KK OUTLET.
But it's his woodblock posters, each one signed in pencil, that I really fell for. Burrill uses traditional woodblock letterpress techniques to convey his message on 100% recycled paper.
His appreciation of simplicity comes across loud and clear in his trademark one-liners. He's not saying anything particularly deep or cerebral, but the direct, uncomplicated style makes it something you want to repeat, or at very least hang over a desk someplace visible.  His limited edition prints – including one of the most well-known "Work Hard and Be Nice to People" – have become mantras for the design community and beyond.
The April  issue of Creative Review also features Burrill's cover art. To see more of his work or to buy one of his woodblock prints, check out his website www.anthonyburrill.com.