There's movement on Columbia Street again.  Brooklyn Collective  is moving to its own digs and expanding to include artists' studio space and classes in cool stuff like sewing and silk screening.
The Collective had been in a space at the back of vintage furniture store General Nightmare , which is shuttering once and for all.
While demand for pricey antiques may be waning enough to send the General packing, the cry for local handmade goods continues to thrive on the increasingly popular Columbia Street Waterfront, prompting the Collective to shift into a 1,500sq ft space that will open August 1.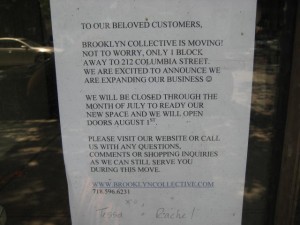 The Brooklyn Collective was founded in 2004 by locals Rachel Goldberg and Tessa Phillips, jewelry and fashion designers respectively, as a way to give other artists a place to display and sell their work. Member artists share the rent, hence the idea of it being a "collective", and get to keep 100% of all profits from any of their creations sold.
The Collective is closed through July and will reopen next month at 212 Columbia Street, next to Mazzat restaurant. As part of the expansion, the Collective will be offering studio space to local artists and classes, including sewing, photography, drawing, metal smithing and silk screening. Look out for a schedule in September.
Brooklyn Collective parties are always fun, so stay tuned too for info about an opening event.
Meantime, mainstay General Nightmare  at 196 Columbia is calling it quits, with just a scrappy note in the window advertising a closing down sale to get rid of the last of the furniture before turning out the lights.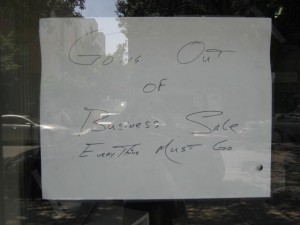 The store, once cluttered with antiques and mid-century treasures, had long been a favored hunting ground for locals and visitors alike in search of something obscure or specific.
My husband and I have scoured the basement on occasion in search of Eames chairs and ottomans. It was like slipping down the rabbit hole into a crazy garage sale.
General Nightmare survived and grew even after the death in 2005 of its well-known owner and Columbia Street pioneer Barry Jetter, with partners taking over and sprucing the place up a bit.
But even as the Columbia Street Waterfront is "discovered" almost weekly by one publication or another, and new spots move into the neighborhood, ailing demand for antiques and rental drama apparently encouraged the closure.