I am not usually one to give up but the lines at the DVF sample sale did me in today.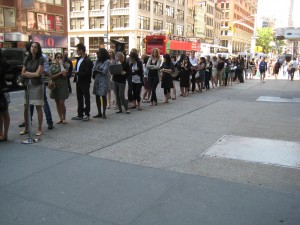 I was about 15 shoppers away from getting through that hallowed door when the cold (yep it was cold standing in the shade all that time) and the seemingly-endless wait made me farewell the new friends I braved the line with for almost one-and-a-half hours, and head elsewhere.
I arrived right on 9am to find a line stretching along Fifth Ave. and around the corner to about half-way down 28thSt.  There were at least 200 women at that stage, all around size 2-to-4, sipping coffee, trawling the Internet and making phone calls; it was a friendly, if antsy scene as we took bets on how long it would be before we could even see the door. Some half-hour later, I made it from 28th onto the Fifth Ave. line, and then it took another 30 minutes to the front of that queue, at which point a suited young man with one arm in a sling, ushered us forward to the line outside the door. I gave it 30 minutes or so there before calling it a day.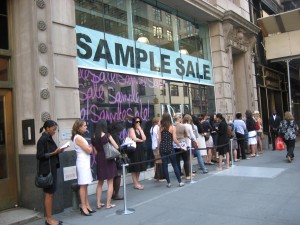 I had places to be and children to collect from school. I figured by the time I got through the bag check, looked around and possibly got on another killer line to pay, my children would be en route to a police station with child protection workers!
Will I try again? Maybe. But for now I can report that the sale seemed to be some kind of black hole, people were let in – hundreds and hundreds of them – but they came out in dribs and drabs, and some people never seemed to make it out.
Mind you, pretty much everyone coming out did have a large white bag, so there was some shopping going on. A lot of people were pulling handbags from their shopping, showing that the demand for DVF accessories was alive and well.
I'd love to give you tips on the best time to go, but frankly, I'm not sure that there is a good time. Certainly not first thing in morning when people stop-by on the way to work. And avoid bringing a large bag that will have to be checked, if you want to save time. Someone in line also suggested having cash, to cut the credit card queue.
The sale is at 260 Fifth Ave. between 28th and 29th streets. It continues Wednesday 10am to 8pm, Thursday 10am to 7pm and Friday 9am to 3pm.