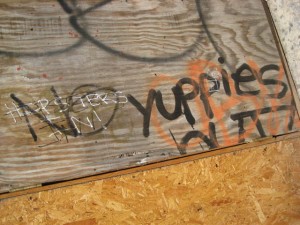 This snippet of graffiti on some construction to the Area Yoga building on Court Street got me thinking: Aren't yuppies just hipsters all grown up? Not necessarily older, but in a different phase of life.
Yuppies are by definition young; so are hipsters. Both are urban and both have professions of some form, lawyer or book publisher perhaps VS indie rocker or graphic artist. Hipsters like arts and pop culture, as do yuppies who, to go with the sterotype, typically spend plenty of money on cool stuff … so isn't it more about a state of mind. Yuppies are settling down, while hipsters are hooking up; yuppies are having babies, while hipsters just have sex.
Maybe I'm missing something in the call for "Yuppies Out: Hipsters In."  To be sure, these could have come from different scribes, but it seemed an amusing juxtaposition, especially given the makeup of the neighborhood – old-timers who grew up here mixed with Manhattan transplants in search of more space to push a stroller and perhaps a million-dollar brownstone to store it in, and the singletons in creative fields who start work sometime after 10am, once they snarkily dodge the strollers.
Coincidentally,  I spied the graffiti from across the street only because I noticed that upscale children's store Ola Baby  is going out of business.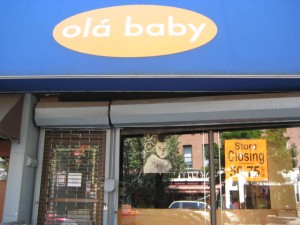 Yep, breeders take note; there is a closing sign on the window and a 50-70 percent off sale in the meantime. Perhaps we'll get another organic, fair-trade, pricey coffee shop … or just another boarded up building.
Ola Baby is at 315 Court Street, between Degraw and Sackett Streets.