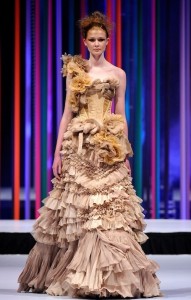 My thanks to fellow writer Kate Godin for pointing out this incredibly divine example of Australian fashion. It channels the inner ballerina in all of us methinks, and redeems the nation after the travesty of a "national costume" that the Aussie Miss Universe contender plans to wear in Las Vegas next month.
This puff of gorgeousness is a design by Aurelio Costarella, modeled during a StyleAid Perth 2010 event in Perth, Western Australia. Aurelio Costarella launched his ready-to-wear and couture brands in 2000 in far-flung Perth and has gone on to dress celebs and socialites from Rihanna and Sharon Stone to Leelee Sobieski and Dita Von Teese, as well as grace Fashion Week runways locally and abroad.
Thank you to Aurelio Costarella and this beautiful dress for restoring my faith in fashion down under and bolstering hope that the dreaded high-heeled Ugg boot won't stray from the pageant catwalk and onto Main Street.