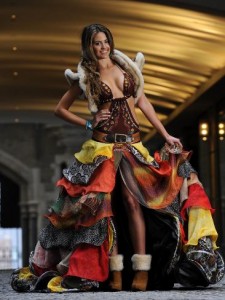 When  you  switch on the TV come August 23 to watch the Miss Universe pageant, which I know you all will, please disregard this crazed ensemble on Australia's entrant. High-heeled Ugg boots, a sheepskin shrug and a cutout cossie, that's a swimsuit in Oz-speak: Is this really worthy of a national fashion identity?
Please, Ugg boots shouldn't be seen outside of your cold apartment in the dead of winter, or at least that's my take on them, let alone adorned with heels and on a catwalk. Hideous. But, what do I know. Jesinta Campbell, the 18-year-old Aussie pageant queen, is chuffed with the costume, which she will wear to represent the land down under in the national costume section of the contest. "Isn't it incredible," Campbell said when revealing the outfit, which a-la-pageant style also reveals plenty of her.
Well, yes Jesinta, it is incredible, in the same way that the Crocodile Dundee stereotype was incredible, and horribly embarrassing. The costume was designed by Sydney's Natasha Dwyer who works under the Arthur Ave label, and the swimsuit bares a design hand-painted by an Aboriginal artist. To be fair, I actually don't loathe the multi-layered skirt, but I am not sure how it really speaks to Australia. Perhaps the color palette is reflective of the earthy reds and ochres of the landscape, and common in indigenous art. Or perhaps Jesinta is headed to Rio for Carnival after her Las Vegas jaunt?
Please, before you judge Australian fashion sense based on this national garb,  think Sass & Bide,  Lisa Ho, Peter Morrissey, Richard Tyler, Collette Dinnigan, Carla Zampatti – there are plenty of great designers to emerge over the years, and they really are incredible. Oh and feel free to smack me silly if heeled Ugg boots catch on!