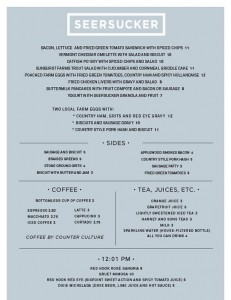 This is what I have been waiting for: BRUNCH at Seersucker. The one meal I can drag a couple of hungry children to and not feel too self conscious. Thank you Seersucker for getting this going, as pledged when you opened back in  May.
Fried chicken livers, a catfish po' boy, biscuits and grits; these I can get behind on a sunny Sunday morning. And I am curious, if a little nervous, to try the Dixie Michelada, Dixie beer mixed with lime juice and hot sauce  – sounds like a hangover cure if ever there were one.
Brunch service begins tomorrow, Sunday, July 18, from 11am to 2pm. Seersucker is at 329 Smith Street, near President Street in Carroll Gardens: Phone: 718.422.0444.