I have these vague imaginings that I will someday invent something and make millions; something simple and practical that people will question how they ever lived without – like that piece of plastic that joins together bra straps to create a crossback and prevent ugly straps peeking out from singlets and sundresses.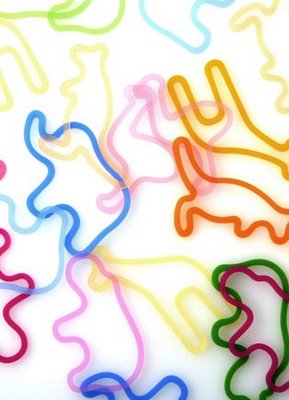 I am stunned though at the craze for rubber band shapes. I saw them one day in a local toy store, and by the end of the next day I spied at least three of my children's friends wearing them. By the weekend, my kids had a couple packs each of these fun money-wasters, and were begging for more.
In case you haven't seen them, they are colored silicon rubber bands in the shapes of anything from fruit, to baseball players, zoo or wild animals, fairies, princesses, dinosaurs, sea creatures or rock band equipment. Some are multicolored; some have scents; and some are glow-in-the dark. They sell anywhere between $2.50 and about $4.50 for a pack of 12 of varying shapes and sophistication.
Beyond the visual appeal of the shapes, it seems kids love that they can wear them as bracelets or apparently as hair bands, though I think they would rip out hair in the process. When you remove the bands, they return to their original shape and are pretty sturdy, though not indestructible: as my 7-year-old found out, they can break with too much stretching. From a marketing perspective, it's genius. They are for boys and girls, they can be traded just like Pokemon cards or baseball cards (remember them!), and they appeal to all ages, from five years old to college students and beyond.
I am guilty of grabbing packs of them to send to Australia to my young cousins; and picking some up for my own children, who have already begun trading shapes among themselves, and probably with their friends. My daughter wears them up her arm to school, but my son says his teachers have outlawed them in class, lest the already rampant toy-trading ring grows.
I'm not against the bands per se. They are kind of cool and certainly harmless, unless your vacuum chokes on a stray silicon strand caught in a rug as mine did. I just wish I had thought of it first, because somewhere out there is somebody making my millions.
Oh, if you feel the need to pad said creators' coffers, and there is a bunch of brands out there from zanybandz to Silly Bandz to just straight-up shaped rubber bands, you can buy the bands in my Brooklyn neighborhood at Pizzazzz Toyz at 281 Court Street  and across the street at Classic Impressions gift and card store, and of course online at Amazon.com or even Office Depot, which I see is selling bags of 20 for just over $3, which works out to a decent deal. But I'm pretty sure any toy store worth its salt is doing a blazing trade in rubber bands right now.