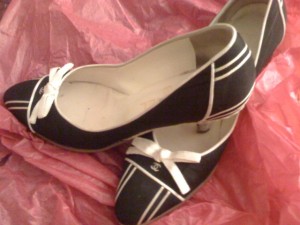 I have horrible feet. Really ugly, wide, hard-to-fit feet that at any given time are plastered with at least one Bandaid and a myriad of shoe-related injuries. My feet are clearly not meant to be trapped in shoes; either that, or I'm not meant to walk as far as I do each day in footwear.
I saw a guy on television last week who rarely wears shoes. Dubbed the "barefoot professor" by his students, Daniel Howell has made a career – and written The Barefoot Book: 50 Good Reasons to Kick Off Your Shoes – about his barefoot endeavours. An Associate Professor of Biology at Liberty University, where he teaches Human Anatomy & Physiology, Howell has long hiked and run barefoot and decided to extend it to the rest of his life out of comfort and curiosity.
He said he was even removed from an airplane en route to New York because he did not have on shoes: he had to go to Old Navy for flip flops before they would let him back on the plane. It seems odd that in this post shoe-bomber age, with shoe removal and pat-downs the standard for air travel, a shoeless man is viewed as a threat. But I digress.
Given access to unrealistically clean streets and spotless floors, I may go barefoot too. It's no surprise then that I am not a shoe person. Handbags, YES, but shoes, not so much.
I've marveled but never embraced the passion my friends have for their shoes; the Carrie Bradshaw-esque love affair with sky-high, feather and bauble-adorned shoes queued on closet shelves. Love fashion as I do, I haven't braved a Manolo Blahnik sale or a Christian Louboutin frenzy because skinny shoes with pointy toes just aren't an option for me. Or so I thought until I wandered recently into a newish consignment store m.a.e. in Park Slope.
The owner, a self-proclaimed "shoe girl" with a predilection for Manolos and a size 10 foot, opened a whole new world of shoes to me. She waved off protests that my feet were too wide for pretty little shoes and sat me down with a stack of beauties in swag of different sizes until I found pairs that fit and looked fabulous. Because of the long pointy toes, I had to go up a size or so, but many of the shoes actually worked.
My spirits lifted: I couldn't believe that for all these years I've dwelled on horrid childhood experiences as confirmation that gnarly, wide feet should be hidden in Doc Marten's and the like.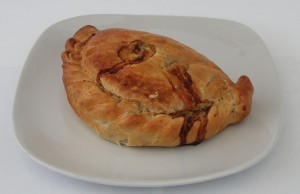 I recall someone close to me (you know who you are) likening my feet to pasties, a broad semi-circle pastry stuffed with meat and vegetables (see right), and calling the shoes of my youth clodhoppers!
I strutted out of m.a.e. with a dainty pair of vintage Chanel black + white kitten heels, and a new confidence about shoe shopping. I'm still not quite ready for the Louboutin sale, but at least now I will bother to keep on trying shoes to see what works.
m.a.e. isn't just about shoes; there are a couple of racks of designer-label clothes and some handbags too, but the shoe selection sets the place apart from other neighborhood consignment stores. Beacon's Closet it is not. There is a definite bent towards Manolo Blahnik, either gently or barely worn, and at a fraction of their retail prices. The last time I stopped by there were vintage Gucci loafers and pumps as well as plenty of Prada, and some Chanel and Ferragamo.
m.a.e. is at 453 7th Avenue, between 15th and 16th streets in Park Slope, 718.788.7070.