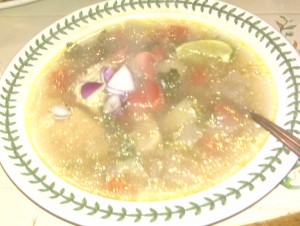 I was skeptical to say the least, but oddly fascinated by the concept of cooking tuna in a soup. Applying heat to a fresh, ruby-red chunk of tuna is sacrilege in my book. So what was my dear friend thinking, urging me to come over for a bowl of her latest creation; an Ecuadoran style tuna soup. I've not been to Ecuador, and being born and bred in Australia, have little knowledge of the style of cooking.  But for me, tuna is all about sashimi, keeping it raw or just seared, at most. I did grow up with fish soups, mind you, but the ones my maternal grandmother made were a hearty mix of sturdy white fish, perhaps some fat prawns for good measure, but never tuna.
Yuca, another dominant ingredient in this soup, was also foreign to me.  I've since learned that it also goes by the names cassava or manioc, and is a long, slim tuber (like a long potato) with bark-like skin. It's often sold in bins outside NY bodegas, or cut and peeled in the frozen section of most supermarkets. All that said, there are  few things I won't at least try. so I agreed to go and just look at the soup, and see if perhaps I dared a taste.
Well, I had it all wrong. The soup was utterly delicious. The chunks of tuna were poached in a fish stock and doused in lime juice, a smattering or red onions and fresh chopped tomato, then all kind of bound together with nuggets of sweet, starchy yuca.  Even my kids lined up for bowls; thinking they were eating potato cooked in broth.
I haven't made it myself yet, but I am already thinking to replace the tricky-to-prep yuca with some potato and/or a handful of rice to make it a more substantial meal. And I will definitely toss in some fresh red chilli to balance the lime and give more bite. My experimental friend was inspired to make the soup after tasting a version at the Red Hook ball fields where for some 30 years cooks from all over Latin America have gathered at weekends to sell foods from their homelands. I guess that's where I'll be going come spring, once the food sellers set up shop again.
Meantime, here is a  recipe for the tuna soup or Encebollado De Atun that won me over.
Ingredients:
1 lb yuca, peeled, cored and cut into 1-1/2″ pieces
3 tbsp olive oil
1 white onion diced
4 plum tomatoes diced
6 cloves garlic finely-chopped
1 gallon fish stock
1 1/2 lb tuna cut in 2″ pieces
parsley chopped
1 bunch cilantro leaves chopped
salt and freshly ground black pepper
1 red onion, thinly sliced
6 limes quartered
corn nuts
Preparation:
Place the yuca in a large stockpot and add water to cover. Bring to a boil,
then lower the heat and simmer gently for about 30 minutes. Remove from
the heat and let cool in the water.
Heat the oil in a separate stockpot over high heat. Add the onion and half
of the tomatoes and cook for 10 minutes. Add the garlic and stock, and
bring to a boil. Decrease the heat to low and simmer for 20 minutes. Add
the tuna and yuca and cook for 5 minutes.
Stir in parsley and cilantro and season to taste with salt and pepper.
Immediately ladle the soup into bowls. Float some of the red onion slices
on the surface of each serving, and top with the remaining diced tomatoes.
Squeeze lime juice over the onions and sprinkle the corn nuts over the
onions and tomatoes. Serve with the remaining lime wedges on the side.
Serves 6