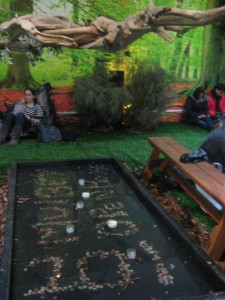 One day, when I grow up and have a house, I want a room in it just like the wonderful, whimsical Park Here, an indoor garden housed at Soho's Openhouse Gallery for the past couple of months.
Openhouse Gallery is an exhibition and installation space, pop-up retail location and events venue at 201 Mulberry Street in Nolita. The notion to create an indoor, pop-up park is ingenious and I only wish I had bothered to go there sooner.
Tree stumps, fake grass, a pond filled with coins and neat faux leaves entwined on branches, enlivened by chirping birds and perfumed air, make for the perfect winter haven. Take a book, a laptop or a kid and lean on a tree trunk, grab a park bench or nab a huge cushion and while away a bleak afternoon.
Entry to the "park" is free but if you get peckish, Brooklyn's own Robicelli's Cupcakes were on sale this closing weekend, as well as brownie treats from The Chocolate Swirl, and other vendors have been in place through the season. It's just a few steps to restrooms unlike in most parks, and there are no grass stains or muddy boots to worry about.
It's a fabulous idea, but of course all great ideas need money, so this, sadly, is the last weekend of Park Here. Though, according to the Openhouse Facebook page, they'll be setting up again next Winter!
If you can get there before it closes tomorrow, Park Here is open from 11am to 6pm at Openhouse Gallery, 201 Mulberry Street, between Spring and Kenmare Streets.