Barneys Co-Op opened calmly today on Atlantic Ave in Brooklyn. There was no long line to get in, no glitterati and very little fanfare. It was the perfect entree for the uber hip store on a stretch of Atlantic Ave. shared largely with Middle Eastern grocers.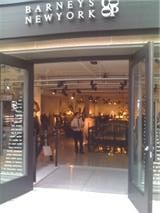 Keeping it local and low key, simply dressed wait-staff offered trays of mini cookies – coconut orange and black and white among them – from One Girl Cookies on nearby Dean Street, and a bar was set up to the back of the store. But there was no over-the-top flash or pretension. It felt comfortable and jolly; the staff all very happy to chat and answer questions, many of them new to the Barneys franchise.
The clothes of course are gorgeous and pricey. The store is split between two levels, with designer denim – think J brand Houlihan skinny cargo pants and Current/Elliott boyfriend jeans – and more casual gear downstairs.
Today was mostly about browsing, with plenty of stroller-pushing mothers stopping by for a look; longer term, it will be interesting to see if the new the Co-Op store, aimed at a young, fashion-forward crowd – and dubbed the "wayward offspring" of Barneys New York – can tempt locals to part with a big chunk of change for an of-the-moment Rag & Bone or Alexander Wang creation.
The new Barneys Co-Op is at 194 Atlantic Avenue.