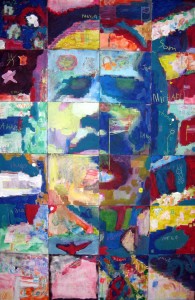 It's not every day you invest in art. But we did a week or so ago, at our children's school Arts Day, an annual fundraising event where each class creates a saleable project for parents to bid on. There were quilts and pictures and bound collections of children's art, and then there was this, I think fabulous, tiled painting of President Barack Obama.
Created in a similar vein to the works of famed American artist Chuck Close, who is known for his paintings based on a grid pattern, it can take a minute or two of staring from a distance to work out who it is, as we discovered when some friends glared at it with a confused squint. But once you get it, you can appreciate the colors and delve into each child's individually colored and decorated tile.
It just happened to be the work of my son's first-grade class and we just happened to lodge the winning bid and bring home this colorful piece, which will eventually grace a wall. I was in the classroom to help the children decorate their tiles and it's no small miracle that it actually turned out looking like a person, let alone the President.