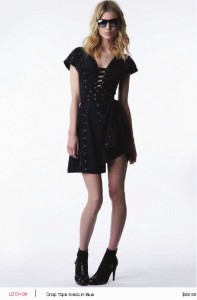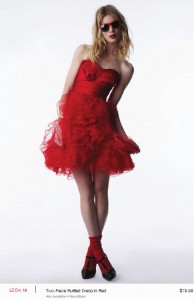 Brace yourselves; the next pop-up shopping extravaganza is almost here – bringing the glamour of  Zac Posen's slick, sophisticated designs to Target in yet another high-end collaboration. This time though, it'll be short and sweet.
Since New Yorkers apparently cannot wait for anything, there will be a mere 24-hour pop-up preview beginning 11pm April 15. The collection hits Target stores nationwide more than week later on April 25.
The speedy preview comes after the much-hyped four-day Liberty of London for Target pop-up store sold out a day early, leaving a lot of shoppers wanting and waiting for the supplies to land in-store and online.
The Manhattan-bred wonder boy's collection is all priced below $200 and includes a long printed evening gown, lots of prom-ready party dresses, and bathing suits, including a snazzy black and gold number. The most pricey piece is a cherry red leather motorcycle jacket at $199.
A few things already caught my eye; a brocade tie dress in a floral print, a classic tuxedo jacket, a chic little blue snap-tape dress (pictured), which has a lot of edge, and my prediction for the big seller, a bright red ruffled tulle dress just made for a party (pictured). Some of the floral and polka-dot prints though take me right back to the Madonnaesque 80s; not to mention the Hawaiian print shirt and Bermuda shorts, which take me to the local Trader Joe's, and not in a good way.
Adding to all the buzz about Posen's latest Target collaboration – he did a range exclusively for Target Australia back in 2008 – aspiring film director Gia Coppola has teamed with all-girl band The Like to make a fun and flirty video promoting the new collection.
The pop-up shopping fest, which promises a party atmosphere with bands, including The Like, DJs and other surprises, runs from 11pm Thursday, April 15 until 11pm, Friday April 16 at 481 8th Avenue, at 34th Street.
–Photos from the Target Lookbook courtesy of Fashionista.com