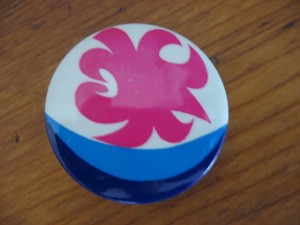 I love this vintage button pin featuring graphic art by Carol Summers, a master American print maker renowned for his intensely vivid colors and woodblock techniques. The pin is stamped 1971, and may have some collectible value as do Summers' prints. The Santa Cruz resident has works in museums including The Art Institute of Chicago, Biblioteque National in Paris, New York's Museum of Modern Art and Brooklyn Museum of Fine Arts.
But for me, the cool vintage pin – purchased from my favorite online vintage store http://www.riceandbeansvintage.com/– is all about wearable art. I plan to use it to drape and pin into place some of my oversized, slouchy winter sweaters. Or maybe I'll pin it on my bag the way my kids do with their superhero pins!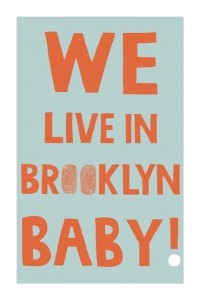 I'm also loving this Claudia Pearson poster for its bright cheekiness. It's the first in a series of hand-drawn type posters featuring some classic and some more obscure song lyrics. This one was inspired by Roy Ayers "We Live in Brooklyn Baby!" Pearson, a Brooklyn local, has been published in the New York Times, Elle, The New Yorker and The Big Book of Illustration, among others. She also has one children's book and is working on another. Besides prints like the one pictured, her illustrations are available on tea towels, totes, cards and books. You can find her work in her etsy store.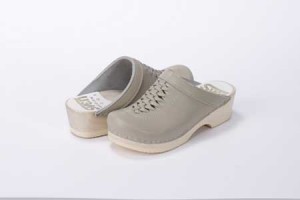 I am not the crunchy, granola-making sort BUT I am having a clog moment as the weather turns and the Havaianas no longer cut it to run the kids to school on a chilly, wet morning. Plus, I am not very good at wearing shoes. Seriously, no matter what shoes I wear I manage to end up with red, chewed-up heels and other assorted blisters and bumps. I am obviously meant to be barefoot but since that isn't practical roaming the Brooklyn streets, clogs – which have no back – seem like a practical alternative. What's more, they could work well with the whole knee-high-sock-trend that's promising to be big this Fall. I haven't owned clogs since I was a very young girl back in Adelaide and probably still in primary (elementary) school, and I probably haven't worn knee-high socks since then either – but this Fall, it's all about to change. I like the lightweight Sven clogs, available online or at Refinery on Smith Street, the go-to for Brooklyn women searching for clogs or the other staple Saltwater Sandals. I know there are much fancier and pricier clogs out there right now, but I'm thinking Sven might do the job and be a good "trainer" clog so to speak.