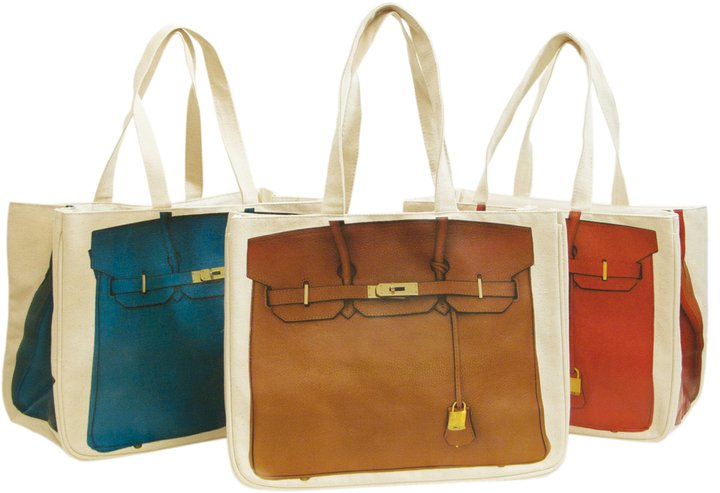 I admire go getters who turn that one great idea into a money-making business. But sometimes, things move too fast or not fast enough, and those go getters make big promises they struggle to keep.
I really hope that's not the case with LA-based accessories brand Thursday Friday whose founding duo Roni Brunn and Olena Sholomytska created the Together bag – a wildly popular canvas shopper emblazoned with a pop-arty Hermes inspired bag print on the outside. With the original $35 price tag (the price has since risen to $45 to counter rising cotton prices), they literally sold like hotcakes.
What could be wrong with instant success and enormous publicity you ask? Well, this fledgling company has had a very public struggle to fill orders placed as long ago as January, causing an outcry on its Facebook page from frustrated buyers. In full disclosure, I'm among the hundreds of people worldwide waiting on bags I ordered and paid for at the start of the year.
It seems the wait may soon be over. Late yesterday, Thursday Friday posted the following to its Facebook page: 
"We understand your frustration with us. We have been dealing with the delayed shipments, cotton price rise and production halts since we started. When we designed our products, we did not expect it to explode in (the) way it has and the overwhelming demand from all over the world has exceeded our production. Please be patient with us, we take your orders very seriously and we are shipping all orders from Jan/Feb."
This long-awaited assurance prompted many hits of the Like button, and was met with a flurry of thankful, hopeful comments from Facebook fans.
Sure, we all knew when we ordered bags in January that they were on backorder and would be delivered sometime in March. But as March turned into April and spring weather coaxed us to swap chunky leather bags for a lighter tote, there were still no bags and intermittent communication from the firm left shoppers wanting. There were discussions about how to get a PayPal refund, and even threats of getting the Better Business Bureau involved.
'Production Snafu'
The problems started when, with unexpectedly high and relentless demand, Thursday Friday had to work with an unfamiliar factory which was not only seven weeks late with orders but produced bags of unacceptable quality that Thursday Friday wouldn't sell to customers. Even once a suitable factory was booked, it was slow to replenish stocks.
"During this production snafu, we understandably got more incoming customer emails, and this volume overwhelmed our support team," Creative Director Roni Brunn, half of the Thursday Friday duo, told G'DayBklyn. "We've been hiring and training new staffers with the same eye for quality and care that we have for our products.  Again, this level of attention to detail has created another lag – a delay in answering support emails."
What there has been all along though is enormous publicity for the bags – from blogs like this to The New York Times, Elle and The Daily Mail, and a prolific Twitter, Facebook and Tumblr presence by the company. That presence, as it turns out, can be both a blessing and a curse. Sure, a company can promote itself brilliantly through social media, but on the flipside, when something goes awry all those chatty friends and followers have a very public place to rant. And that they did.
A string of negative comments and delivery queries litters Thursday Friday's Facebook page. So much so, that the company repeatedly asked people to take their issues to customer support rather than use Facebook  as a complaint forum. 
"We try our best with those whose frustrations are voiced on Facebook, and we completely understand that our responses may not work for everyone," said Brunn. She said the company contemplated sending an email to customers "but thought it'd be whiney of us. We're lucky to have anyone interested in our products and just want to push through any setback."
Interestingly, even bad publicity – in the form of legal action from French luxury brand Hermes, whose iconic Birkin bag inspired the Together tote – has only fueled demand for the quirky bags.
Hermes, whose Birkin bags sell for upwards of $9,000, contends that Thursday Friday is  "riding on the reputation and recognition of the Birkin Bag" to sell its otherwise generic tote. And in so doing,  Hermes says Thursday Friday is creating confusion among customers and putting Hermes' reputation at risk.
I'm not sure that anyone is confused by a leather bag worth thousands and a cotton tote, but the suit has done nothing to damp demand for Together bags.
As we cross our fingers that the wait really is coming to an end, Brunn assures Together bag carriers can still be the coolest kids on the block.
"These bags aren't close to ubiquitous," she said, putting a positive spin on the setbacks and delays.  "People who ordered them in January will still be among the first to carry them."