Every now and again I find I have overstepped the mark and promised to do something I probably shouldn't, mainly because I am ill-equipped to fulfill the promise with aplomb. Well, I promised my daughter I would come to her school to bake something – one of those promises you don't expect to come home to roost anytime soon – but of course, I am on the schedule to bake cookies next week.
I love to cook and am decent at it, but baking is not my thing. It is too precise for my dash-of-this, pinch-of-that methods; not to mention that the idea of baking publicly with a gang of over-zealous four-and five-year old helpers and only a toaster oven at my disposal, actually makes me nervous.
So, aware of my shortcomings, I did a trial run with daughter and her friend this week. We made ANZAC biscuits to mark ANZAC Day on April 25, an Australia-New Zealand holiday that recognizes the soldiers who landed at Gallipoli during World War One. The biscuits, or cookies to Americans, were also called Soldier's biscuits, because they were baked by wives and mothers concerned that their boys abroad weren't getting the nutrition they needed to fight a war. The  absence of eggs in any true blue ANZAC biscuit recipe meant they would stay fresh during the long sea journey.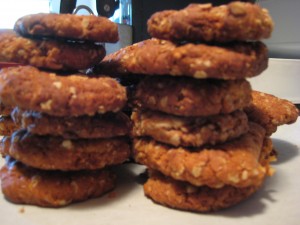 ANZAC biscuits are traditional and a favorite among Aussies – and so easy to make that I may even pull-off my misguided attempt to make my daughter proud of her mummy cooking in class. Here's the recipe I remember from growing up in Australia; there are many variations but basically it's a combination of rolled oats, flour, sugar and coconut with  butter, golden syrup (which you can get easily in New York at Fairway and most well-stocked supermarkets), bi-carbonate of soda and boiling water.
Ingredients
1 cup quick cooking oats
3/4 cup flaked coconut
1 cup all-purpose flour
1 teaspoon baking soda
1 cup white sugar
1/2 cup butter
1 tablespoon golden syrup
2 tablespoons boiling water
Directions
Mix oats, flour, sugar and coconut together.
In a small saucepan over low heat, melt the syrup and butter together. Mix the soda and the boiling water and add to the melted butter and syrup.
Add butter mixture to the dry ingredients. Drop by teaspoons on greased cookie sheets (or baking paper).
Bake at 350 degrees F (175 degrees C) for 18 to 20 minutes.