Ok, so my birthday is far enough past that I don't feel completely gratuitous bragging about the most beautiful gift ever from the best husband ever. And before everyone prepares to retch slightly at all this syrupy joy, let me be honest.
Yes, dear husband does have excellent taste. But no, he wasn't just randomly surfing vintage websites in search of the perfect gift for me. He did however take the hint when I thrust the laptop in front of him and sighed, "Isn't this divine!"
It won't surprise anyone who knows me that the chain comes from my favorite purveyor of high-end vintage clothes and accessories Rice and Beans Vintage. It is a vintage 1970s Gucci gold and enamel GG chain, which can be worn either as a belt or a necklace. It is casual and glamorous all at once.
My husband suggested I buy it as my birthday present and I followed orders. When he asked the next day if I planned to buy the necklace, it was already making its way from Maine to Brooklyn and it was worn out for the very first time to birthday dinner.
I don't know if I am imagining it,  but there seems to be a resurgence of demand and adoration of the Gucci brand, which has played second fiddle on and off over the years to the ever fashionable Chanel. I'm merely an armchair follower of  haute  fashion, and a frugal one at that, but while Chanel is forever, Florence-based Gucci seems to have slipped on a hip, rejuvenated vibe as it celebrates its 90th anniversary.
At Milan Fashion Week, for instance, Gucci just unveiled its Fall 2011 Ready-to-Wear collection, loaded with color, fur and Fedoras to create what Gucci Creative Director Frida Giannini called a "contemporary female dandy." Giannini cited UK singer Florence Welch, of Florence and the Machine, as an inspiration for the collection.
Also feeding into Gucci's celebratory vibe, the fashion house and Italian car giant Fiat used Milan's Fashion Week to roll out the adorable  "500 by Gucci."  The special edition and highly covetable version of Fiat's iconic 500 car marks Gucci's anniversary and the 150th anniversary of a unified Italian peninsula.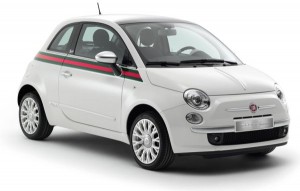 Gucci's Giannini custom designed the zippy city-car, which comes in white or black and is distinguished from the regular Fiat 500 by Gucci's signature green-red-green stripe. It will be sold online from April 1 to June 30, with a price tag beginning at 17,000 euros or roughly $24,000 US dollars.
I wonder how big a hint I will need to give dear husband for the car – in white please!