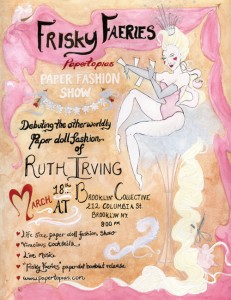 I'm not sure I get exactly what this show is all about, but I do know I want to go. The idea of paper clothes and faeries and cupcakes is about all the lure I need. But if you need more, here are the details accompanying the invitation:
"Come out to frolic at Papertopias Frisky Faeries Fashion show! This is a life-sized paper doll fashion show exploding with glamor, treachery and sass. The show explores voyeuristic glimpses of a changing identity, with each paper outfit taking its inspiration from a beloved children's book character.
There will be music performed by DJ T3db0t, devilish sweet treats … mayhem, trickery, life size paper doll fashions, original paper doll art work, and a fabulous dance party after."
Papertopias was created by Ruth Irving, an artist who creates custom doll sets from her Brooklyn studio. Irving trained in architecture at University of Florida, and has honed her studies to stretch the boundaries of the paper dolls we're all familiar with by melding history, glamor and the fantasy of future fashions.
Papertopias debuted its life-size paper fashions in a show last month at Urban Alchemist, a design collective on 5th Street in Brooklyn.
The second performance this Friday, March 18, starts at 8pm at  Brooklyn Collective. Even if you don't get the paper doll thing, it's a great excuse to check out  local art, jewelry and other quirky stuff on show and on sale at the collective.
Brooklyn Collective is at 212 Columbia Street, between Union + Sackett Streets. Phone 718.596.6231.