As mother of a 5 year old who has refused to wear anything but skinny jeans for the past two years, shunning all other legwear as "too puffy", my recent shopping  finds should come as no surprise. And yet, somehow, I'm stunned at the insidious spread of the dreaded JEGGING to children's wear and beyond.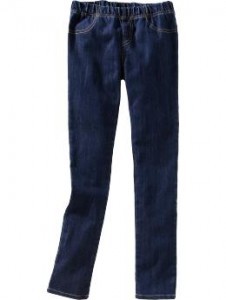 I was in Old Navy one recent morning before work and wandered over to girls' leggings to find, hanging alongside the ubiquitous multicolored leggings, baby jeggings. Just like mama owns, only in sizes from toddler to tween..
If somehow you missed the advent of the jegging, let me explain. It's basically a denim jean in legging form, – so a super-stretchy blue jean, usually with an elastic waistband and often with jean-like stitching details – hence the unfortunate name, jegging. Besides the horrible name, I don't object to the product per se. Who doesn't love to pull on something comfortable that gives, tucks neatly into high boots or looks just as good with ballet flats. Jeggings  – I love mine from Uniqlo – can look great.
And then there's the other side. It's tricky for women to pull off the skintight silhouette, disguising womanly lumps and bumps under long tunics. Plus, I often feel badly that I resort to the legging look all too much, rather than structured clothing with zippers and buttons. It concerns me sometimes that we – me included – are rearing our children largely unaware of belts, buttons and shoelaces.
That said, it seems the jegging, along with elastic and Velcro are here to stay. And not just in the children's aisle.
Legwear for men is getting an overhaul too, with man leggings – meggings perhaps – on the runways and already in some fashion forward retailers. The UK's Daily Mail reported last month that men also are increasingly keen to wear tights. So much so that Selfridges in London has a range of man pantyhose – yep mantyhose – designed exclusively for guy-sized legs.
The mantyhose are made by lingerie brand Unconditional and are a sturdy 120 denier thick. At about 70 GBP a pair or roughly $111 US dollars, the look doesn't come cheap and really, hipster, fashionista, whatever, this just cannot be a good look en masse.
It's nothing new of course; think court jesters, ballet dancers, some athletes, Superheros and rockstars – meggings and mantyhose have been on the radar for years. But in 2010/2011, unless you're Spidey or glam -metal rocker Bret Michaels, perhaps stick with a manbag instead.